The Magic Nome
Menza the Knome dreams of being a magician and his dream finally comes true when one of the old Knomes teaches him about a fantastic, magical ability – namely his imagination!
X
X
---
The Nome Tree Heroes
Brave Thero looks after The Nome Tree. And he has to
be in top form when he whizzes along a zip wire, shoots
with moon berries and jumps on a trampoline between
the branches of the tree.
X
X
---
The Dragon Sword
Dramon can't find his place in The Knome
Village, so he sets off on an adventure.
Danger lurks at every turn outside of
Knome Forest and Dramon is put to the
test when he finds The Dragon Sword
with its magical powers.
---
The Nomes' Secret Protector
Poor Nundja! He's always tired and walks around yawning.
The other Knomes scold him and call him lazy, even though
he can't help it.
One night the evil Tiger King steals "The Knomes' Heart" ruby from The Knome Village. Three brave Knomes are sent off on a mission to get it back … and to everyone's surprise Nundja is one of those chosen!
---
The TrioZapper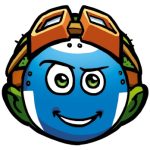 The inventive Envo invents the most amazing
things for the other Knomes' adventures.
But because he dreams of going himself,
Envo invents a ray gun called the TrioZapper.
And so he sets out on an action-packed
adventure in a fight against sword-wielding
scoundrels …